This website uses cookies to enhance your user experience. By using this website you are consenting to this. Find out more
13 mins
TRAIN JOURNEY FROM PADDINGTON
Up to 14 trains an hour at peak times
6 mins
TO JUNCTION 6 OF THE M4
(1 mile)
17 mins
DRIVE TO HEATHROW AIRPORT
(8 miles)
12
ELIZABETH LINE TRAINS PER HOUR
From 2019
6 mins
DIRECT TRAIN TO WINDSOR
41 mins
DIRECT TRAIN TO OXFORD
A well trodden route
Slough provides fast and frequent mainline trains (up to six an hour) that will get you directly into London Paddington station in just 17 minutes.
Capital connections
From 2019 the arrival of the Elizabeth Line will connect Slough to the London Underground network with services directly into the West End and City.
Maidenhead
9 minutes
Heathrow Central
17 minutes
Reading
21 minutes
Paddington
28 minutes
Bond Street
32 minutes
Tottenham Court Road
34 minutes
Farringdon
37 minutes
Liverpool Street
39 minutes
Canary Wharf
46 minutes
Windsor
6 minutes
Maidenhead
7 minutes
Hayes & Harlington
11 minutes
Paddington
13 minutes
Reading
14 minutes
Ealing Broadway
19 minutes
Oxford
41 minutes
Bristol
94 minutes
Birmingham
132 minutes
Central London
29 miles
Heathrow Airport
8 miles
M4 (J6)
1 miles
M25 (J15)
5 miles
M40 (J1A)
5 miles
M3 (J2)
10 miles
M1 (J6A)
22 miles
Oxford
45 miles
Bristol
97 miles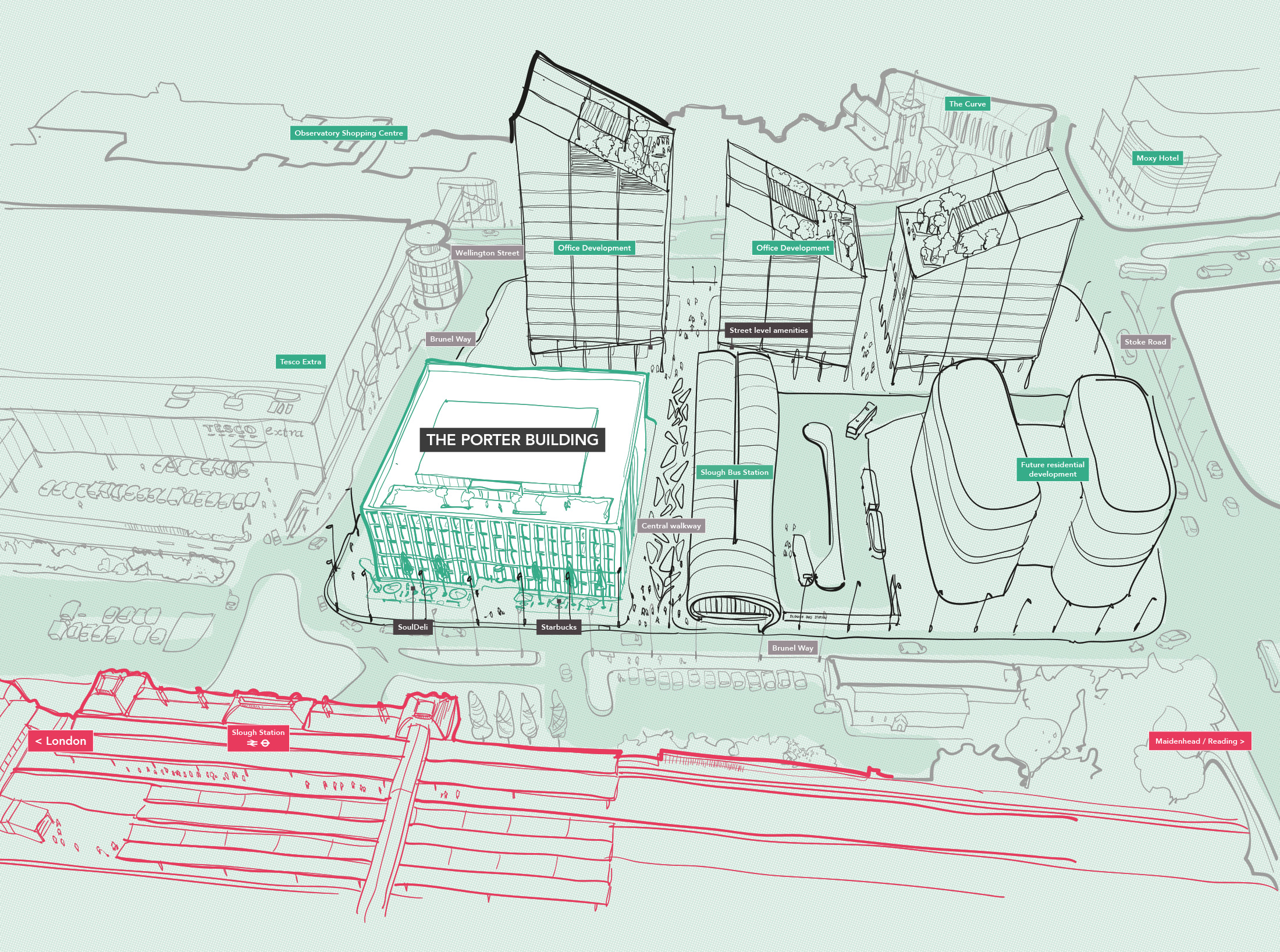 The transforming effect of the Elizabeth Line is shifting the centre of Slough towards the station.
The Porter Building, along with an additional 500,000 sq ft of new office and residential developments, is being delivered with a wealth of built-in amenities.
What's more, it is creating new and vibrant public spaces. The central walkway allows for natural flow between the train station and The Curve (Slough's newest architectural landmark), as well as the Observatory Shopping Centre.
The Porter Building Cafés / Restaurants
The Porter Building will host two food retailers on the ground floor, with tables and chairs spilling out onto the pavement opposite the station.
Office Development
The development will deliver two office buildings, each offering food and beverage retailers on the ground level, as well as landscaping of the public realm pathway between the station and The Curve.
Slough Bus Station
Newly developed, the station provides yet another lively transport hub for the town.
The Curve
The Curve is a new performance venue, library and café that provides the centre piece to the 'Heart of Slough', a £400m redevelopment plan for the town centre.